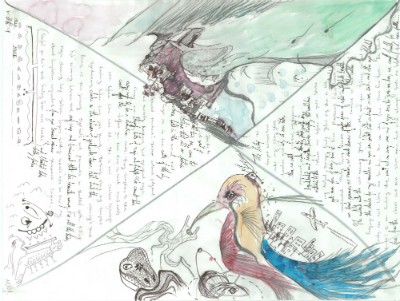 The Coco Model
 "CoCo" stands for Collaborative Content.
We held our first open Salon for the selected contributors for issue 1 (and friends) on January 22nd, 2012.
Here is the text of the original invitation, which describes our intentions:
Friends, Colleagues, Lets-Fix-This-Fucked-up-Country Men and Women,
We would like to invite you to be close to our hearts.
You are close to our hearts.
We would like to invite to make, close to you, our hearts.
To our hearts, close, we invite to make you.
To understand eXiT STraTa as merely a magazine would hurt its feelings.
eXiT STraTa is a strategy, a process, a community, a creative approach to living life and leaving a trail behind you.
Any publications associated with 
eXiT STraTa
 are most accurately described as documentation; of an archive of the production of 
eXsT
 which can be replicated in two dimensions. But the 
STraTa
 could never be confined to two dimensions, nor to the timespace limitations of the page — quietly growing in a chrysalis of 0's and 1's, and presented to you, a select few, here in Soft Launch Beta, the 
eXsT
website
 – which will provide a constant stream of content, a place for meeting, discovering, and sharing.  
eXsT_weB
 will offer room for video and audio content as well as in depth profiles of the creators who make up our global community, across a wide range of disciplines.
That said — as part of the, as it were, IRL [aka In Real Life]/topian [place bound] manifestation of eXiT STraTa we endeavor to sponsor a series of events, salons, workshops, and so forth — and we'd like YOU to be a part of it. We'd like you, eventually, to feel inspired to propose, participate in planning, or host your own eXsT affiliated events, but we are excited to get to the ball rolling ourselves, with the first ever
eXiT STraTa CoCo [Collaborative Content] Salon
to be held Sunday the 22nd of January from 1-6 pm
Who are you exactly? Well, Dr. Jung, that's a question for another day. As far as the eXiT STraTa CoCo [Collaborative Content] Salon is concerned, however, you are:
– the selected poets, artists, and writers who have been selected for inclusion in the first issue
– a highly curated, immensely respected group of creative individuals who we would love more than anything to be a part of this process with us!
And what exactly is CoCo? The concept of Collaborative Content comes from a range of inspirations and traditions, but the concept/goal is one and the same:
the act of bringing creative people into a lightly structured environment to create content both in response to collaborative projects and cues, and then to eachother, and eachother's content allows for a complex, systemic process of artistic/visual/verbal generation unparalled in isolation.
We see eXiT STraTa in all its guises as ultimately a depository of the inspirational end result of a community of inspired and inspiring people and work. Work from this first session will be featured both in the premier issue (for which the submission and selection process closed several months ago) as well as on our website.
eXsT_CoCo 
takes cues from but is in no way limited to Dada and Surrealist 
Games
, and the concept of 
Third Mind
 collaboration as practiced by 
Brion Gysin
 and William Burroughs. [Complete PDF of their "Third Mind" publication 
here!
 gotta love those interwebs!]
Lynne, poetry co-editor, says: <<check out my recent blog on collaborative poetry here>>
Ultimately, eXsT_CoCo and eXiT STraTa are only as good, as productive, as inspiring, as challenging, and as mind-blowing as you make them.
We hope you can make it.
Please bring ideas, and your hands, and an open mind. We will provide supplies but of course you are welcome to bring whatever you would like to contribute or use.
ONWARD!!!
CoCo awaits.
In states solid and airy,
Exit Strata